The more you explore Cava, the more parallels you find with Champagne. Surprisingly, even though many are made at a similar quality-level and style to Champagne, Cava is almost always more affordable.
"Cava matches Champagne in many ways, often
for a small fraction of the price."
This article will help you identify great Cava wines by understanding the production method, different styles, labeling conventions, and grape varieties.
Cava Wine Guide

The Cava Grapes
Macabeo: (aka Viura, Macabeu) A white grape. Ripe, exotic citrus and stone fruit aromas, exotic and waxy floral notes (bergamot, chamomile) – adds elegance, and is the base of most blends
Parellada: A white grape. Yellow pomaceous and citrus fruits, yellow flowers, fresh nutty notes – adds mid-palate texture and body to blends.
Xarel-lo: (aka Xarello) A white grape. Lean, underripe, demure citrus and apple fruit aromas, principally contributes tart acid and freshness to blends
Other Cava Grapes
Chardonnay and Pinot Noir: These two French-origin grapes are popular in Reserva bottlings of Cava.
Trepat: A rare red grape. Adds ripe and underripe red berry a red floral aromas, typically boosts body as well as adding rosé's pigment.
Garnacha and Monastrell: Other Spanish red grapes used to produce Cava rosé wines.

Styles of Cava Sparkling Wine
Most Cava sold in the market is the base-model Cava Brut. Check out the other levels for greater quality.


Cava
minimum of 9 months aging on the lees (identical to most French Crémant-style wines)


Reserva Cava
minimum of 18 months aging on the lees (non-vintage Champagne requires 15 months on the lees)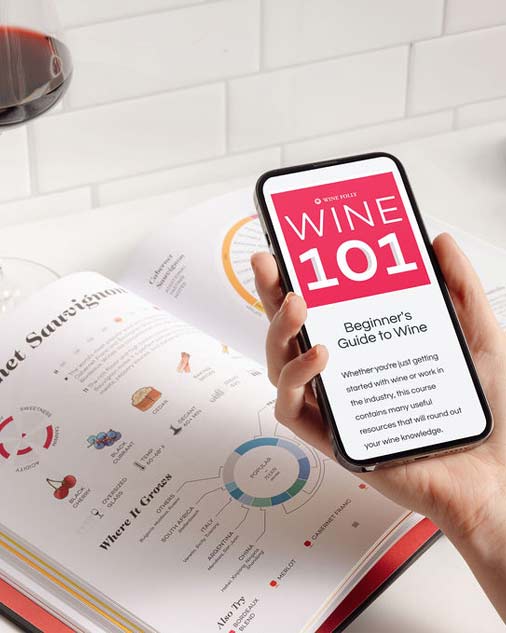 Buy the book, get a course.
Get the Wine 101 Course @ 75% OFF with the purchase of Wine Folly: Magnum Edition.
Shop Now


Gran Reserva
minimum of 30 months aging on the lees, vintage dated, and available as Brut Nature, Extra Brut, or Brut only. (similar to Vintage Champagne!)


Cava Paraje Calificado
minimum of 36 months aging on the lees, vintage dated, and available as Brut Nature, Extra Brut, or Brut only. Additionally, wines must be estate bottled and from qualified single vineyards with vines older than 10 years. Many of the current CPC wines on the market have a prevalence of Xarel-lo in the blend!
Generally speaking, the longer the Cava ages, the more toasty and nutty aromas you'll find in the wine. Well-aged vintage Gran Reserva Cava sparkling wines often have notes of brioche, almond skin, toasted hazelnut, or smoke.
---

How Cava is Made
Most Cava wines in the market are the basic designation which ages for just 9 months on the lees ("leez"). What heck are those, you ask?  They might just be the most important part of Cava's bid to rival French Champagne.
Champagne-style sparklers (like Cava) undergo a very unique production process. To get the bubbles in the wine, a secondary fermentation happens inside a sealed bottle. As a by-product, dissolved CO2 (i.e. carbonation) is trapped in the wine. While bubble development only takes a few weeks, the process has only just begun!

Autolysis ("auto-lie-sis" a by-product of lees aging) has begun. Enzymes in the inactive yeast cells (lees) are starting to enrich the wine, adding a whole new family of appealing, savory flavors to the Cava: fresh bread dough, white chocolate, and almond-y marzipan notes. The longer a sparkling undergoes autolysis, (i.e. lees aging) the more of these flavors the wine will have. At bare minim, most Champagne-method sparklers will undergo 9 months of this aging.
These inactive yeast cells are the key to why Cava is much better competition for Champagne than Prosecco, which doesn't typically undergo a long-term autolysis. Young Cava is typically dominated citrus and orchard fruit aromas: quince, yellow apple, lime, and Meyer lemon.
However, because the way the wines are aged, you're likely to find a set of bread-y and nutty savory aromas as well: brioche, almond skin, toasted hazelnut, or smoke. Most Cava sold in America is made in a Brut (essentially dry) style; they'll taste lean and tart, with a crisp, refreshing zap of zesty bubbles.
The more powerful and complex Cavas tend to be the Reserva and Gran Reserva classifications. These wines (by law) need to see more autolytic (lees) aging, and producers will often use much finer cuvées ("Kew-vay", a.k.a. base wine blends), with more richness, texture, and complexity to augment and compete with the heavy influence of lees-derivative aromas. 

Cava producers rely primarily on the regional Spanish white grapes of Macabeo, Parellada, and Xarello to make Cava. Macabeo is by far the most important of the three, given that it tends to reveal more complex flavors (lemon curd, yellow flowers, almond paste) and more age-ability by increasing body and acid freshness.
Macabeo, a synonym for Viura, is the main grape of fine aged white Rioja. Some Cava producers have taken a focus to Macabeo, championing it as a single-varietal Cava in the Reserva and Gran Reserva bottlings. These wines offer a great opportunity to explore how Macabeo tastes on its own (Or you could also buy a great bottle of White Rioja to explore the grape without bubbles.).
The Last Word on Cava
Imports of Cava Reserva and Gran Reserva wines to the US have grown by over 50% since 2014 and this category of sparkling wine is bound to become more in demand, as it presents a killer deal relative to French Champagne. Cava, especially on the higher end, continues to fly under the radar and you can find many exceptional values at better retailers.
Knowing how to find great sparkling wine is a skill you're likely to use over and over again, because, let's face it, the answer is usually bubbles. So, if you're a fan of French Champagne, discovering the other sparkling wines from around world makes a great summer project! The best part is many of these wines are considerably more affordable that Champagne, which makes experimenting easier on the wallet. Thanks to wines like Cava, Crémant and Prosecco, drinking bubbles everyday is absolutely possible. Remember, sparkling isn't for occasions, it is the occasion!