When you think of New Zealand wine, does lip smacking Sauvignon Blanc come to mind? Brace yourself, Chardonnay is the island nation's best kept secret.
New Zealand Chardonnay is generally characterized by an elegant balance of minerality, fruit purity and crisp acidity. Due to to the varietal's shapeshifter ability, however, there are plenty of stylistic and regional differences.
Let's take a look at what places New Zealand Chardonnay among the world's finest.

New Zealand Chardonnay – Jewel of the South Pacific
Across New Zealand, the ultimate aim is to make Chardonnays with minimal intervention that express place, vintage and a harmonious balance of fruit, acidity and oak. New Zealand's Chardonnay artisans look to express subtlety and elegance with fruit purity and lingering textures.
Chardonnay comes in three general styles, all of which find expression in New Zealand.
Lean, crisp, mineral-driven. Minimal or no oak contact allows delicate fruit and elegant textures to shine. Typically made in cooler regions, like Marlborough and Central Otago (Chablis is the benchmark).
Stone, citrus and tropical fruits, complemented by oak-influenced vanilla, butter and toasty notes. Medium-bodied, produced in moderately moderate to warm climates like Hawkes Bay.
Big, bold and buttery. Ripe peach and melon folded into vanilla, nut and butterscotch flavours and a rich creamy texture thanks to heavy oak influence. Warm, sunny Gisborne makes some classic examples. Signs of a minor revival, the style's glory days were California and Australia in the 80s-90s.

---

Regions
It may only represent 6% of New Zealand's wine industry, but Chardonnay punches above its weight!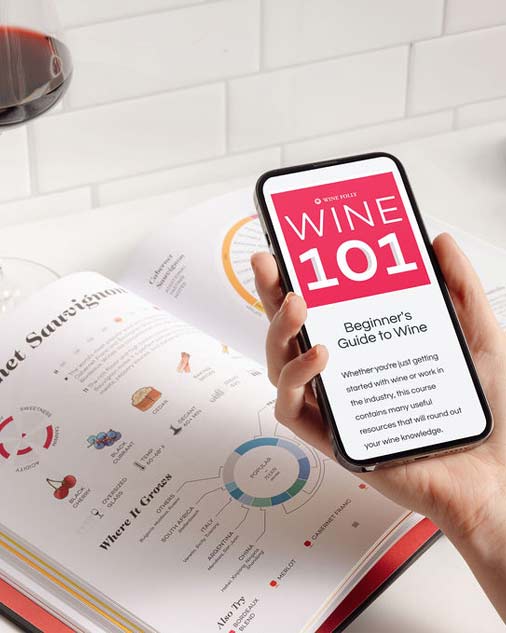 Buy the book, get a course.
Get the Wine 101 Course @ 75% OFF with the purchase of Wine Folly: Magnum Edition.
Shop Now
It's the one varietal that flourishes in every major grape-growing region in New Zealand, with world-class examples coming from all of them. Beginning in the far north, let's look at the regional expressions (with the proviso that stylistic diversity exist within regions).

Northland/Bay of Islands
Chardonnays from the subtropical north are full-bodied, ripe and relaxed. Vibrant peach, citrus and some tropical fruits, rich, mouth filling texture that is kept tight by cooling maritime acidity.
The region has been experiencing a vinous rebirth since the 1990s, driven by Chardonnay. Local winemaker Ben Bryne of The Landing observes a refining in Chardonnay styles.
Tapping more into site, indigenous yeasts, and less malolactic fermentation, the aim of Northland winemakers like Ben is to allow Chardonnay to express land and sea.
---

Auckland
Pure peach, nectarine, citrus and apple flavours courtesy of volcanic, clay-rich soils and a temperate maritime climate. Creamy textures and complex layers of toasted brioche, cashew and flint are harmoniously woven around fresh acidity that delivers a long, clea finish.
Waiheke Island produces powerful, fragrant Chardonnays, while West Auckland lays claim to elegant styles that rival top white Burgundy. Auckland is one of New Zealand's oldest wine regions, established in the early 1900s by hardworking Croatian, Lebanese and English winemakers.
"NZ Chardonnay can be generally characterised as being fresher and more vibrant. This is not to say they are not rich and opulent at times, but more acidity plays a key role in the balance of the wines. They display more liveliness and minerality than overripe fruits and secondary flavours."
– Adam Hazeldine, Babich Wines
---

Gisborne
Gisborne Chardonnays are highly aromatic, with rich, lush palates bursting with stone, citrus and tropical fruit.
The warm climate, plentiful rain and predominantly clay soils make dry farming the norm. This makes for concentrated flavors and wines that reflect site and vintage.
Chardonnay is the king of this relatively remote region, where Captain Cook first made landfall in NZ.
---

Hawkes Bay
Hawkes Bay Chardonnay verges on opulence, but fine-tuned acidity and minerality balance the varietal's potential for richness.
As the region's flagship white, good examples have serious drive and concentration on the palate, are medium to full-bodied and elegantly textured.
Pure fruit flavours tend toward peach, nectarine and grapefruit, while barrel-fermented characters suggest cashew and brioche.
The creamy, softening effects of malolactic fermentation is a stylistic decision and increasingly, care is being taken not to overdo the oak. The cooling, ocean influence provides a crisp acid spine that keeps the body lean and mean, and allows a flinty minerality to shine through. Top subregions are beachfront: Te Awanga, Tukituki Valley and Esk Valley.
"Chardonnay is the most challenging, and rewarding, white grape to work with. Responsive to soils, climates, the winegrowers hand, it's expressiveness is unbounded, it's ability to form harmony with well-chosen oak is legendary. I truly believe NZ Chardonnay has the integrity, depth, power and finesse to delight wine lovers around the globe."
– Tony Bish, Tony Bish Wines
---

Martinborough/Wairarapa
The defining features of Martinborough Chardonnay are bright stone-fruit flavours (think white peach, nectarine), medium-bodied but deeply-textured wines with an underlying mineral component. The delicate balance of weight, buoyancy and acid tension keeps the palate long and lean and makes for excellent food pairing.
More elegant wines than block-busters, the best Martinborough Chardonnays are excellent cellaring prospects and always improve with bottle age.
Grown alongside world class Pinot Noir, the character and style of Martinborough Chardonnays reflect the cooler climate and free draining soils.
---

Marlborough
Marlborough's cool climate Chardonnays are concentrated, complex, and effortlessly balanced. More citrus focused than big and tropical, the pristine fruit shines with careful use of oak. To some extent, malolactic fermentation is necessary to tame Marlborough's signature acidity.
The mild maritime climate, long sunny days and diurnal temperature variation allow Chardonnay to ripen slowly, concentrating flavors while maintaining bright acidity. Sauvignon Blanc put Marlborough on the map, but Chardonnay is on the rise.
---

Nelson
Nelson Chardonnays have a distinct minerality and texture. Similar growing conditions as neighboring Marlborough deliver pristine fruit to craft elegant wines.
Glacial clay soils contribute to the pure stone-fruit and citrusy characters, wet stone minerality and great acidity that lingers and evolves on the palate.
Despite these regional characteristics, the reality with Chardonnay is that a massive amount of influence occurs during the way it's made.
"I believe NZ makes some of the best Chardonnays in the world, very much due to the climate, soils and creative nature of Kiwis."
– Patrick Stowe, Rimu Grove Winery
---

North Canterbury
Kiwis are not the bragging kind, but they are right to claim North Canterbury as one of the world's premier regions for top flight, genuinely cool climate Chardonnay.
The impeccably clean, ripe fruit is in part driven by long, dry summers and the persistent Nor'wester wind (NZ's version of the Mistral). Fruit purity is preserved and balanced by fresh acidity thanks to cool nights and proximity to the Pacific ocean.
These conditions make for supremely balanced Chardonnay that are generously flavoured and textured but never overblown.
On top of that, North Canterbury has those most coveted of soils – limestone – with the best wines in the region heavily influenced by this with great elegance and minerality. It's profound stuff.
---

Central Otago
The world's southernmost wine region, Central Otago is best known for Pinot Noir. But where quality Pinot grows, quality Chardonnay is likely to be found!
This is very much the case down south, where the dry, mountainous terrain provides a unique climate, aspect and altitude for cool climate varietals. Central Otago Chardonnays are tightly structured, with bright citrus and mineral characters.
As Jenn Parr of Wild Earth Wines observes, "[w]ith our cool nights and long sunlight hours, it is easy to ripen Chardonnay at lower Brix (sugar levels) while retaining natural freshness from the higher acidity. Most producers are very careful about over-using new oak, allowing the wonderful fruit purity to shine through. Central Otago Chardonnays tend to be well balanced, long and age-worthy, yet also highly enjoyable as young wines".
---

In And Of New Zealand
The winemakers of NZ are clearly passionate about their pursuit of a perfect Chardonnay. While they invest time, money, generations, and winemaking philosophy into its creation, they rely on the land itself as their best tool, allowing it to express an amazing array of bottled statements.
Chardonnay wine is one of the most famous and widespread, but for all the possible versions available, dipping into the waters of New Zealand offers a chance to taste a fresh and unique perspective.