Whether you're a wine enthusiast looking for your next favorite wine, a student of the vine preparing for WSET, or a professional in the wine industry, we all have daily struggles searching for makers, vintages, or technical information.
But there are new ways to meet this problem.

Leveling Up Wine Learning Resources
Wine regions often have out-dated information or nothing more than a general overview of the wine they make.
The average wine learner probably won't need to know exact numbers of planted varieties, but they certainly would like to know who is making great regional wines and where they can find them.
So if the general information out there is tough to deal with, isn't it time for a specific wine education? Many online wine courses are prohibitively expensive or deal with topics in wine that only cater to professionals well-schooled in wine already. For a new wine learner or someone looking to level up, where are the affordable alternatives?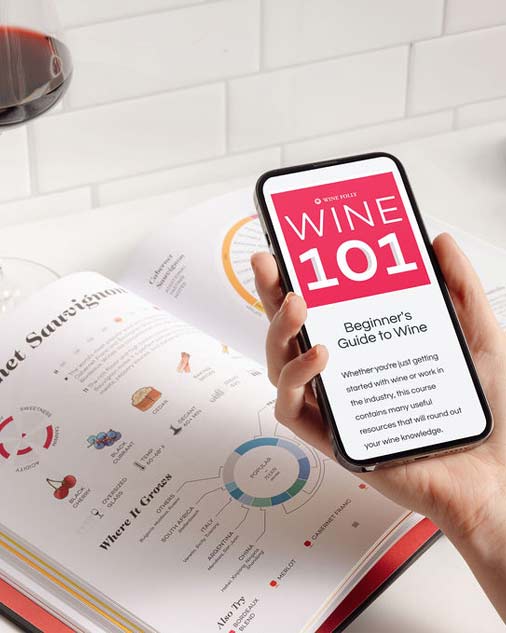 Buy the book, get a course.
Get the Wine 101 Course @ 75% OFF with the purchase of Wine Folly: Magnum Edition.
Shop Now
And more often than not, when doing your own digging about wine or looking for wine in a store, the online information provided by wine maker's is broken or out-of-date. Scanning a QR code on a label is handy and fast, but a disappointment when a dead link pops up on our phones.
Wine Folly is closing the gap. Throughout 2021 and now in 2022, Folly is working to break open wine regions, broaden out wine education options, and bring together all the data and tools wine learners need to tackle the global topic of delicious Wine.
Here are three big ways Wine Folly is opening up the wine world:

Comprehensive Region Guides
Working with the regions, Folly has been opening up learning and access to wines through the dynamic Region Guides.
Each guide is a comprehensive look at a wine region, including all of the appellations – named regions with specific winemaking criteria – along with outlining resources for deep wine learning and travel planning.
Wine learners and industry professionals are free to browse through the wineries and wines, pull down technical information, or explore entire categories for inspiration.

In the first quarter of 2022 Folly is releasing the Sicily Region Guide, opening up the Mediterranean island, its beautiful landscapes and ancient winemaking history, with an easy to use interface powered by the Global Wine Database (GWDB). Over 100 wineries have already registered and more arrive daily.
This marks the 6th Region Guide released by Folly – 2021 saw the release of Napa Valley, Walla Walla, Argentina, Bordeaux, and Alto Adige. All of the Region Guides are dynamic and reflect information that is current in GWDB, meaning the content is always updating to what's current.
---

Reliable Wine Information on Mobile
It's frustrating to be standing in a wine shop, and you find a bottle that excites you with a QR code on the label, so you pull out your phone, and get a dead end.
Many producers want to include such codes on their bottles, but struggle to maintain links or keep the information at the end of the rainbow up to date. Leveraging the power of the Global Wine Database, winemakers can dynamically generate wine information cards with scannable QR codes that lead to vetted wine information.
Wine cards can be dropped into websites, email, and even social posts. And wine learners can share these cards with their wine groups as well. This is more than an easy way to see wine information – it's a new way to talk about wine.
---

Accessible Wine Education
Wine Folly opened up March with the release of our French Wine Course – A four-part online wine course for covering all the regions and popular wines of France.
The course was authored by Wine Folly's founder and award-winning author, Madeline Puckette, with Folly's Head Wine Educator and Resident Master of Wine, Christine Marsiglio MW.
The course uses a mixture of video and digital print material and students are able to receive certification at the conclusion of the course. The course represents one of the most ambitious attempts to crack open French wine, making one of the more complicated regions in wine accessible to all.
---
All of Folly's tools work in concert – wine learners can jump into a wine course and rely on Region Guides, wine cards, and over 1000 articles available from winefolly.com to power their wine education.