How to become a sommelier detailed in 3 steps. This article includes advice from seasoned pros. Learn the real details on what you can do to prepare yourself for a life in the wine business.
Wine Sommelier's Salary
48k-120k*
*Depends on business, location and your skill level. Pay can be based on percentage of wine sales. (2016 figures)

How to become a Sommelier:
Step 1: Teach yourself everything about wine.
Step 2: Starting working in the restaurant industry.
Step 3: Get a sommelier's certificate to advance your career.
How to Become a Sommelier
Each of these steps require rigorous study, both mentally and physically, to achieve your position as a pro. Here are some specifics on how to get started and what to expect down the road.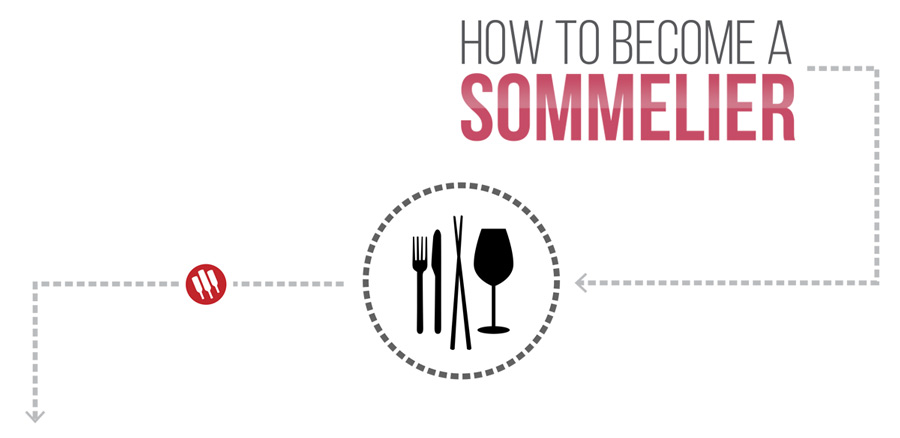 #1 Before taking a wine program
Round out your knowledge and expand your palate. This part of your journey is the most fun and while you're learning you can develop some study skills that will help you later: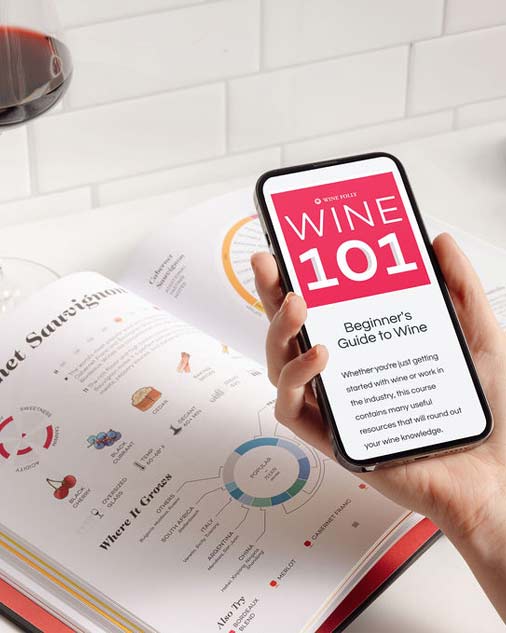 Buy the book, get a course.
Get the Wine 101 Course @ 75% OFF with the purchase of Wine Folly: Magnum Edition.
Shop Now
Learn to assess wine and take useful wine tasting notes
Everyone has a different way to taste wine, but there is a standard set of steps that you will want to observe to make a professional assessment on wine. This type of assessment is more about connecting the dots between a flavor, such as clove and vanilla in a sample Pinot Noir, to the conclusion of the use of French oak in its make up. So what should you be tasting to get your palate tuned?
Increase your knowledge of the most important wine regions of the world
France, Italy, Spain, and the United States are the top four wine regions of the world.
Of course, you'll need to know about more regions than just these four! However, this is a good place to start.
Learn the major regions of each country and get to know what wines they make. For this part, you'll benefit from a great wine book and creating flashcards.
Need some inspiration for note cards?
We liked user mpsansbury9 and escabatum_rip3 notes as well as notes by bubblyprofessor.com who teaches WSET wine courses.

Get comfortable serving and pouring wine


Around and around we go! Ladies first, then gentleman…
The most overlooked and often forgotten art of presenting, opening and pouring wine is something a sommelier takes a lot of pride in perfecting. This part of your education requires attention to etiquette and the physical ability of the job. You'll want to practice the physical act of opening Champagne, and of presenting and pouring wine. You might consider getting a book on hospitality to learn additional tips on tact and more nuanced procedures.

"As a sommelier, you end up busing a lot of tables. This is to say, that you need to learn the craft of restaurants at the same time that you're learning about wine if you want to be a restaurant sommelier. We are part of a service first and foremost. Second we are sommeliers." Morgan Harris, Sommelier in NYC
---
#2 Start working in the industry


Learning how to observe and juggle many tasks at once is something you'll learn on the job.

Now you can get to work! If you don't already have a job in the hospitality industry, you've just armed yourself with enough skills to impress a hospitality manager to give you a try. Of course, it's not easy to get a job as a wine server or sommelier right away without any prior experience, so be prepared to get creative.

Where to start working without prior experience
Look for opportunities to be a server at a wine-driven restaurant, a wine bar, a tasting room, a catering business, or even as hotel banquet staff. These are all great opportunities to build your experience. These jobs may seem lowly (especially if you've achieved status in another career) but don't let this get to you. Working the floor at a restaurant is actually quite challenging; think of it as boot camp for sommeliers. If you realize during this process that the industry is not for you, you can at least walk away with exciting wine knowledge and less upfront cost.
"There are many restaurants who have a lot of wine where no one cares that the junior staff know anything about it. Who you work under, i.e. someone you consider a mentor, is much more crucial than what you're actually doing. Otherwise, it's work hard, don't be late, show up to everything. 99% of success in life is just showing up when other people stayed in bed." Morgan Harris, Sommelier in NYC
Is this a good place to work?
Let's say you found a potential job in the business. How do you know if it's the right place? Hopefully, they offer some or all of these benefits:
Do they offer staff wine tasting or training?
Do they offer to reimburse or pay for Intro wine exams?
Do they offer any perks or contests for increased wine sales?
Do they change their list of wine by the glass often?
Do they offer advancement opportunities?
How to present yourself
The very best restaurants employ people who anticipate the needs of their guests and maximize sales, all while being ingratiating, humble and often invisible. For this, you'll want to be squeaky clean, well-groomed and dressed appropriately.

TIP: Humility: Many diners treat restaurant staff with very little respect. You'll want to learn how to brush your shoulders off and not let it bother you.
#3 Getting Your Sommelier Certificate


Dustin Wilson 'tongs' a bottle of wine at Eleven Madison Park in NYC. Watch the video.

Do I need to have a certificate to be a Sommelier?
No. You don't actually need to be certified to become a sommelier. However, getting certified will improve your chances and reduce your competition to get the job you want.
"I will say that by forcing oneself to study—hard—for a long period of time, certification offers young sommeliers the opportunity to gain the context they need to understand wine much faster than they would if they simply relied on the dining room floor as their classroom." Dustin Wilson, Eleven Madison Park, NYC
---
"They're only useful if you find the process of them useful. You will not enjoy them if you're all about a result. I like having expectations and a professional community to function inside of, so I enjoy the sommelier community around the CMS exams. I would be first to say though that:

a) it's not everything
b) if you don't enjoy it, don't do it
c) there are plenty of super fierce sommeliers who don't have any certifications."

Morgan Harris, Sommelier, NYC
How much to expect to pay
You should expect to pay about $1000 depending on what course option you choose. This price doesn't include the cost of your personal educational booze purchases.

Which Wine Course Should I Choose?
Check out this awesome guide on wine courses, written by Sommelier Rina Bussell.


Stay connected to the industry
Being a sommelier may be fun at on the job, but it's even more fun when you get to know your peers off the job. After you pass, consider joining in on the conversation on Guildsomm, a professional network for sommeliers.
"My proudest, happiest, and most fulfilled moment in my day-to-day work is when a bottle I've selected from a humble, farming-focused producer is sold to someone who really enjoys it. I bring two human beings (winemaker and drinker) together who don't know each other and through this product we are connected and humanized as a species. That to me is what makes a sommelier a worthwhile career." Morgan Harris, Sommelier, NYC
---
Get Started Now
Get the book that thousands have used to help achieve their wine-related goals.