New York has a long history of wine production, boasting both America's first bonded winery, Pleasant Valley, in the Finger Lakes, as well as its oldest continually operating winery, Brotherhood, located in the Hudson River Valley.
Explore up-to-date wines, winery, and region information with Wine Folly's New York Wine Region Guide.


There are 3 primary species of wine grapes in New York: European varieties (v. Vinifera), American varieties (v. Labrusca and v. Rupestris) and hybrids, or crossbreeds (muts!).
New York's Native-American Grapes
New York may be America's third largest wine-producing state by volume, but over 80% of vineyard land is planted to vitis Labrusca–a grape variety primarily used for juice!
Vitis Labrusca is a species of grape native to North America that includes grape varieties like Concord and Catawba. As a wine, vitis Labrusca has long been considered inferior to vitis Vinifera, the European species that includes Cabernet Sauvignon, Chardonnay, and pretty much all the other other varieties that appear on fine wine labels.
As a consequence, v. Labrusca harvests are universally predestined for sacramental wine or grape juice (think Manischewitz or Welch's). New York is a leading producer of both products.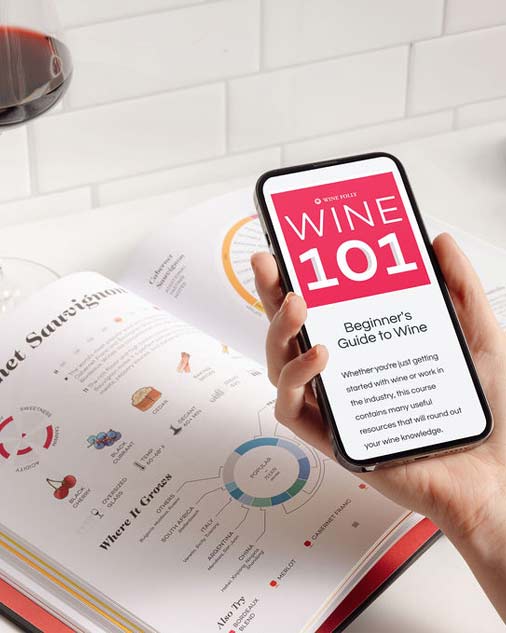 Buy the book, get a course.
Get the Wine 101 Course @ 75% OFF with the purchase of Wine Folly: Magnum Edition.
Shop Now
"the wines possess undeniable individual character"
For this reason, this article will be focusing on the vitis Vinifera varieties of New York within its four top wine grape growing regions. Each area within the state is distinct and the wines possess undeniable individual character.

The Wine Regions of New York
New York AVAs
Cayuga Lake '88
Seneca Lake '03
Hudson River Region '82
Lake Erie '83
The Hamptons '85
Long Island '85
Finger Lakes '82
Long Island '01
Niagara Escarpment '05
North Fork of Long Island '86
The Finger Lakes
Known for: Riesling
Contains: Cayuga Lake AVA, Seneca Lake AVA
The Finger Lakes, some five hours northwest of New York City by car, are home to several different sub-regions. The Finger Lakes AVA (American Viticultural Area) was created in 1982, but the story of fine wine production in the Finger Lakes starts well before that.
Were it not for Dr. Konstantin Frank's work in the 1950's and 1960's at the Geneva research station, we may have never seen any widespread adoption of Vinifera grape varieties in New York, especially upstate. Frank, who was originally from the Ukraine, believed that you could plant Vinifera vines in the cold continental climate of upstate New York. He proved himself correct. Finger Lakes Riesling, as a category, is certainly one of the few world-class wines made east of the Mississippi.


Vineyards must survive the winters in New York–on Keuka Lake, Finger Lakes AVA. By Brian Holland
The lakes are crucial to the identity of the region. Created by the retreat of the last ice age, they function as energy batteries, both insulating the vineyards from harsh frosts during the winter and cooling them during the summer. This combination leads to the long, temperate growing season essential to healthy grape development.
As for the wines, Riesling is often made in a dry, aromatic style, but also quite frequently in harmoniously sweet styles. Besides Riesling, other Alsatian varieties are successful in addition to Chardonnay. Pinot Noir and Cabernet Franc lead the way for red varieties, but you'll find many other varieties in Finger Lakes vineyards.
Long Island
Known for: Cabernet Franc, Merlot, and Sauvignon Blanc
Contains: Northfork AVA, The Hamptons AVA
The Long Island AVA didn't exist until 2001, which was after both sub-AVA's of North Fork (1986) and The Hamptons (1985) had been created. Most of the production is on the far eastern end of the Island where the first winery opened in 1973. Despite its youth, several mature producers are doing excellent work, as well as a wealth of experimentation.
The summers are quite hot, but cooling winds off the Atlantic help to maintain ideal grape-growing temperatures in the vineyards, which are never more than 11.5 miles from the sea. Given the Atlantic maritime climate's similarity to Bordeaux, many producers bet on Bordelaise varieties including Cabernet Franc, Merlot, and Sauvignon Blanc. Additionally, plenty of experimentation occurs with a diverse array of varieties including Syrah, Austrian Blaufrankish, Italian Friulano (A.K.A Sauvignon Vert) and Refosco. Sparkling wine from a few producers is also quite successful.
Niagara Escarpment & Lake Erie
Known for: Riesling, Ice Wine and French-American Hybrids
Lake Erie and the Niagara Escarpment are in the far northwest corner of the state and are very much both under development as fine wine regions. The Lake Erie AVA is shared with the state of Pennsylvania. 95% of the grapes planted in the appellation are Concord, destined for commercial juice grape production. Some fine wine is produced, particularly from Riesling. Hybrids (a crossing of vinifera and labrusca) like Noiret, Chambourcin, and Seyval Blanc have prominence as well.


Ice wines have great potential in Niagara–from Niagara-On-The-Lake on the Canada side by Fabio Neves
Niagara Escarpment, though a new region, has the very successful Ontario wine industry just across the lake as a model for success. While Niagara Escarpment's harsh winters endow the region with the ability to produce ice wine consistently, table wine production is also a focus. Niagara Escarpment has just 800 acres of vines planted, and approximately 15 wineries, but as producers discover what's most successful, growth is inevitable.
Hudson River Region
Known for: Hudson Valley Heritage White (primarily Seyval Blanc) and "Heritage Red" (primarily Noiret and Dechaunac)
Located immediately north of New York City, the AVA has a massive 225,000 of potential vineyard land of which only 500 acres is currently planted. The Hudson Valley Wine and Grape Association proudly features French hybrids with bylaws on how the heritage red and white wines are to be made and bottled in the region. This type of rule system may seem rigid but Hudson Valley could be looking to France for inspiration to improve quality and consistency. The region's climate is moderated by rolling Shawangunk hills on the western side of the Hudson and by the river itself. Both act as insulators from the frigid temperatures of the Northeast winter.
In conclusion…
New York wine country is in a gestational period, with great momentum towards betterment. Producers across the state are taking risks, experimenting, and discovering how their vineyards can generate the most successful wines with every new vintage. With this focus, New York will remain the most exciting and prolific wine growing state on the eastern seaboard for some time to come.