If Hawkes Bay is New Zealand's greatest wine region, that would make it one of the world's. Jump into the Hawkes Bay Wine Guide and discover a new favorite wine region.

Guide to Hawkes Bay
Although New Zealand's known for zingy Sauvignon Blanc and pristine Pinot Noir, this South Pacific nation also produces rich Bordeaux blends, earthy Syrah and ripe Chardonnay. The majority come from temperate Hawkes Bay on the east coast of the North Island.
Get to know the reds, whites and sub-regions that define this slice of wine paradise.

Hawkes Bay Reds
Bordeaux Varietals and Blends
Rich Cabernet Sauvignon and Merlot blends have long been Hawkes Bay's signature red. These Bordeaux blends showcase ripe blackberry, plum, subtle herbs like sage and dusty tannins. Balancing power and elegance, they can get 'big' but are never overblown.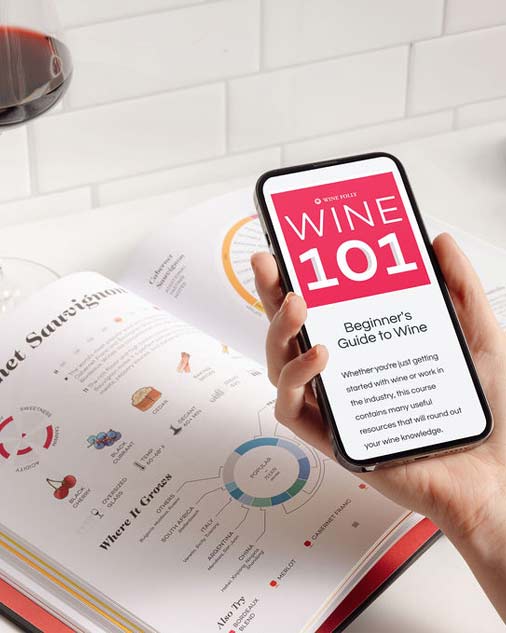 Buy the book, get a course.
Get the Wine 101 Course @ 75% OFF with the purchase of Wine Folly: Magnum Edition.
Shop Now
Concentrated flavors and fresh acidity reflect the maritime climate and gravelly soils. Yet the harmony of these wines is also a testament to skilled winemakers, whose craft involves augmenting the bold structure and finesse of Cabernet Sauvignon with the bright, focused expression of Hawkes Bay Merlot.
Firm ripe tannins and lifted fragrance accent these wines, which unlike those from warmer climates, remain fresh, elegant and vivacious. These qualities also set them up for the long run.
Hawkes Bay blends tend to be Merlot dominant in the style of 'right bank' Bordeaux, with varying amounts of dark, spicy Malbec, red fruit perfuming Cabernet Franc and pungent Petit Verdot for added interest. Distinct single varietal wines displaying that understated Kiwi class are also produced.

Syrah – New Zealand's next big thing?
Hawkes Bay Syrah exhibits cooler climate characters, with white pepper and perfumed violet petals and licorice to the fore.
The wines often have higher acidity levels, which give a fresher, tangier impression of red and dark fruits than Syrah from hotter climates like California or Chile. French oak, with its subtler smoke and spice influences is favoured over the more potent, vanilla and cream character of American oak.
Hawkes Bay Syrah is often compared with (and sometimes mistaken for) Syrah from the northern Rhone, the varietal's spiritual home. It's almost nothing like it's antipodean neighbor, Shiraz, so it's just as well they go by different names!
As with the famed Syrah's of Hermitage or Cotie Rotie, good examples of Hawkes Bay Syrah showcase layers of dark berries, black currant, Morello cherry, coffee, milk chocolate, black olive, charry smoke and exotic spices like nutmeg, cardamom and juniper.
It's heady stuff! The finish tends to be tight and focused thanks to the region's sea breeze acidity, while the tannins are typically fine-grained or powdery.
---

Hawkes Bay Whites
Chardonnay
Hawkes Bay Chardonnay verges on opulence, but fine-tuned acidity and minerality balance the varietal's potential for richness. As the region's flagship white, good examples have serious drive and concentration on the palate, are medium to full-bodied and elegantly textured.
Pure fruit flavors tend toward peach, nectarine and grapefruit, while barrel-fermented characters suggest cashew and brioche.
The creamy, softening effects of malolactic fermentation is a stylistic decision and increasingly, care is being taken not to overdo the oak.
The cooling, ocean influence provides a crisp acid spine that keeps the body lean and mean, and allows a flinty minerality to shine through. Top subregions are beachfront: Te Awanga, Tukituki Valley and Esk Valley.

Sauvignon Blanc
Hawkes Bay Sauvignon Blanc retains New Zealand's signature lip-smacking zing while displaying more ripe, tropical fruit flavors than cooler Marlborough.
In good examples you'll find everything from aromas of yuzu, guava, kaffir lime and white nectarine to passionfruit, pineapple, grapefruit, gooseberry, crushed herbs and sea salt on the palate.
There's a growing trend in partial barrel fermentation and oak ageing, which develops more complex aromatics like elderflower and basil, as well as smoky, bisquity notes. Oak also tames some of Sauvignon Blanc's notorious acidity, creating a softer, rounder mouthfeel compared to the sharp edges of that made in stainless steel tanks.
---

Hawkes Bay Subregions

Esk Valley
The northernmost subregion, Esk Valley's narrow opening to the sea provides a unique combination of shelter and oceanic influences. The result are deeply coloured, supple reds showcasing ripe blackberry and cherry alongside dried herbs, smoke and liquorice.
Hinting at subtropical, mild winters and warm summers produce early ripening grapes that grow happily alongside avocado, stonefruit and citrus orchards. Carved by the Esk River, the soil is predominantly alluvial silt with pockets of silty gravels.
Esk Valley's unique 'Terraces' vineyard, planted on a steep limestone hillside, is home to a collection of broad shouldered, complex whites that reflect the mineral rich soils and inherent warmth of the district.
Up valley, boutique producers like Petane are growing vibrant Chenin Blanc, Viognier, Riesling and Pinot Gris.


Gimblett Gravels
Hawkes Bay's grand cru subregion, world class Bordeaux blends, Syrah and Chardonnay spring from 'the gravels'. The wines are bold, concentrated and supremely balanced thanks to ideal growing conditions.
Located fifteen kilometres from the Pacific, Gimblett Gravels isn't subject to the cooling sea breezes that are a defining feature of other Hawkes Bay subregions.
The air and soil temperature tend to show greater variation by virtue of the inland position and thermal convection from the river stones. The daytime heat allows for optimal ripening of the grapes while the nighttime cooling preserves acidity and flavor.
Beyond a thin layer of sandy topsoil, the river gravel goes down as far as a vine can reach for moisture, minerals and nutrients.
As in parts of Bordeaux and the Rhône, the free draining soil makes for earthy fruit flavors, grippy tannins and medium to full bodied reds. These wines are at once earthy and rustic, pretty and polished.

Bridge Pa Triangle
Bridge Pa Triangle turns out powerful and distinctly varietal Merlot, Cabernet Sauvignon, Syrah, along with Chardonnay and Viognier.
Adjacent to Gimblet Gravells, this subregion was also formed over thousands of years of the Ngaruroro River changing course.
Sheltered by mountains from the prevailing westerly weather, it's far enough inland to miss the sea breeze. Free draining river gravels, locally known as "red metals" overlaid by loess, volcanic ash and greywacke make for glorious, seductive reds and rich, resplendent whites.


Te Awanga
Classy Chardonnay and fragrant, early ripening reds like Cabernet Franc are grown beachfront. Although a maritime influence extends throughout Hawkes Bay, Te Awanga displays the most dramatic effects of the temperate coastal climate and long growing season. The wines often exhibit a distinct saline, mineral, wet stone character due to the intimate proximity to the sea.
---
Hawkes Bay is arguably New Zealand's greatest wine region, which would in turn make it one of the world's. From Te Awanga Chardonnay to the Bordeaux blends of Gimblett Gravels and Bridge Pa, to Esk Valley Syrah, Crownthorpe Sauvignon Blanc and inspired aromatics, there's little Hawkes Bay can't do.