This advanced wine guide explores how to improve your palate using a tasting grid, a technique used by professional sommeliers. Learn the exact technique that wine pros use to blind taste wine.
If you're just getting started with wine tasting, this article is pretty advanced, so you may prefer to read How to Taste Wine and Develop Your Palate as a primer.
There is no singular secret to master the art of blind tasting. Anyone can learn, and practice makes perfect.
Of course, practicing at this level is a process. The more you use this structured tasting method, the more accurate your palate becomes at tasting and the better your results. So, use the tasting grid until it becomes second nature.
This article is a crash course in sensory analysis.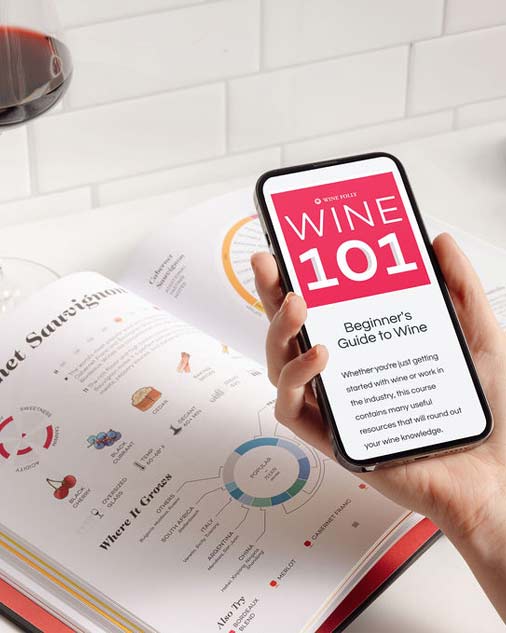 Buy the book, get a course.
Get the Wine 101 Course @ 75% OFF with the purchase of Wine Folly: Magnum Edition.
Shop Now
The Secret to Blind Tasting? Know "The Grid"
The wine tasting grid is a list of wine characteristics based on visual, aromatic, and taste information. Trained tasters use the grid as a system to mentally separate aromas, flavors, and tastes to reveal the identity of a wine.
As it turns out, the grid is not only good for blind tasting. It's also essential to understanding what makes great wine.
If you're serious about wine, the tasting grid changes the way you think about wine.
A Lil' Backstory
I was first introduced to the tasting grid after passing the Court of Masters Certified exam in 2010.
At that point in my career, I'd managed to cobble together my system of blind tasting that had taken me pretty far. I'd already tagged an award on my belt as runner-up in Ruinart's Chardonnay challenge earlier that year.
Still, if I was going to get in the major leagues, I needed to improve my tasting game. I joined a tasting group in Seattle.
I liken the "joining a tasting group" experience to being a home-schooled kid trying to join a college sorority. It was awkward (I was awkward).
Fortunately, the other sommeliers in the group were gracious enough to introduce me to a tasting technique that ultimately changed the way I think about wine, food, and everything else I put in front of my nose.

Reality Check: Learning the grid is not exactly easy, and you will not become excellent overnight. However, if you remember to practice, you will advance your tasting ability to a level that is superior to most (both in and out of the wine business).
Learn more about wine in 15 minutes than you ever thought possible.
Do It Yourself
You can try tasting wine with the grid even if you're not practicing blind tasting. It will help you to associate features of a wine based on where and how it was made. With experience, you'll build a mental repertoire of tasting notes and what they indicate in a wine. For example, sometimes I sniff the subtle aroma of Parmesan cheese in a sparkling wine (my marker for more animalistic leesy "autolytic" aroma.) I begin to associate that smell with a wine from Champagne.
What You'll Need
3 oz pour of wine (or several, for a comparative tasting)
A sheet of white paper to view the color (and even lighting, if possible)
wine tasting grid (pdf)
a pen and pad to write tasting notes
a clear head
The Grid
If you've made it this far…then you've committed to learning the tasting grid. Save this page for later and refer to it again. By the way, most beginners will take about 15–20 minutes to fill out one grid for a single wine, and professionals should be able to do it in about 4 minutes.
There are 4 main parts to the grid:
Visual
Nose and Palate
Structure
Conclusion
---

Visual
There are essentially three aspects to pay attention to when you look at a wine: Color, Meniscus, and Viscosity. You'll want to hold the glass over a white surface with the glass angled away from you so that you can easily see the wine pool to one side with very little visual distortion through the glassware.
Color
Clarity
Clear, Slight Haze, Murky, presence of Sediment, gas (bubbles)
Brightness
Dull, Bright, Day Bright, Star Bright, Brilliant
Intensity
Low, Medium-Minus, Medium, Medium-Plus, High
Over time reds will lose their color (anthocyanin), and whites will become richer in color, eventually turning brown.
Color
Red: Garnet (red-ruby), Ruby, Purple (blue-ruby)
White: Straw (green-yellow), Yellow, Gold
This can often be an indication of a particular variety, age, or regional climate (e.g. a cooler climate may produce wines with higher acidity leaning more towards the garnet and ruby side of the spectrum). For example, in most casesa Argentine Malbec will be purple, and Tuscan Sangiovese will be garnet.
Meniscus
Secondary Colors
Red: red base or blue base
White: green base or copper base
Secondary colors are the hints of color that you get, either in the meniscus of a red wine or, in the case of white wine, as a subtle hue observed under light. Reds will either have a red base in the color or a blue base. Like other plants with anthocyanins, the color shift occurs due to the presence of acidity. For example, hydrangea flowers change color depending on the soil; if the soil is more acidic, the flowers will become more reddish, and if the soil is basic, the flowers will be more blueish. The same is also true with red wines, even though all wines are on the acidic end of the spectrum, lower acid wines will appear more blue or magenta in their coloring. Of course, it's important to note that the coloring is also a product of the variety.
Rim Variation / Meniscus
Yes/No. If yes: what is the color variation from middle to edge?
This mainly refers to red wine or white wines made with skin contact and can give you a few clues to the age of the wine. As the anthocyanin degrades, the red color will fade and yellow as well as reveal a wider meniscus. In young, high anthocyanin wines (such as Aglianico, Petite Sirah, Syrah, and Tannat) the color will often be very rich from the middle to nearly the edge of the glass.
Viscosity
| | |
| --- | --- |
| Viscosity / Wine Tears | Viscosity in a dry wine indicates the alcohol level. Viscosity in a sweet wine could indicate both sweetness and alcohol level. The tears that form on a glass after you swirl (called the Marangoni Effect or Gibbs-Marangoni Effect) are correlated to alcohol level and can be used to help indicate if the wine has low, medium, or high alcohol. |

---
Nose and Palate


The aromas and flavors of a wine are combined into one section, although you will assess them separately (first smelling, then tasting). Both parts involve your sense of smell versus the texture and feel of a wine on your palate (see the "structure" section which includes wine traits like acidity, sweetness, tannin, and alcohol)
TIP:
The first part of both smell and taste is the condition which is to determine the wine is clean or has
a wine fault.
Impression
Intensity
Low, Medium-Minus, Medium, Medium-Plus, High
The intensity of the aroma as a whole is a clue towards building the profile of a wine. For example, high alcohol wines (generally from warmer climates) will have more alcohol evaporation, and subsequently more aromatic intensity. Also, the temperature the wine is served at will affect the aromatic intensity of a wine, so the intensity doesn't necessarily give you a complete story, just a whiff.
Aroma vs. Bouquet
(youthful/developed)
As an overall impression, do you believe the wine to have more youthful aromas from the grape or more tertiary (savory) traits from aging? Both red and white wines tend to deliver less floral notes and more dried/sweet fruit flavors as they age.
Fruit
| | |
| --- | --- |
| Citrus | Lime, Lemon, Grapefruit, Tangerine, Orange, Zest, Citrus Peel, Citrus Pith, etc. |
| Apple / Pear | Green Apple, Yellow Apple, Pear, Asian Pear, etc. |
| Stone Fruit / Melon | Honeydew Melon, Cantaloupe, White Peach, Yellow Peach, Apricot, etc. |
| Tropical | Lychee, Pineapple, Mango, Guava, Papaya, Jackfruit, Banana, Passion Fruit, etc. |
| Red Fruits | Strawberry, Cherry, Raspberry, Red Currant, Cranberry, Red Plum, etc. |
| Black Fruits | Black Plum, Blackberry, Boysenberry, Blueberry, Black Cherry, etc. |
| Style of Fruit | Tart (cooler or moderate climate), Ripe (moderate or warm climate), Overripe, Jammy, Cooked (indications of hot climate or hot vintage), Dried, Oxidative, Baked (indications of aging and/or oxidative winemaking) |
Flower/Herb/Other
Flower
White Wine: Apple Blossom, Acacia, Honeysuckle, Orange Blossom, Jasmine, etc
Red Wine: Violet, Rose, Iris, Peony, Hawthorne, etc
Vegetal (pyrazine)
White Wine: Gooseberry, Bell Pepper, Jalapeño, Chocolate Mint
Red Wine: Green pepper, Roasted Red Pepper, Bittersweet Chocolate
Herbs
White Wine: Mint, Basil, Savory, Chervil, Tarragon, Thyme, Sage
Red Wine: Mint, Eucalyptus, Sage, Menthol, Oregano
Spice (rotundone)
(red wines) Black pepper
Evidence of Botrytis
(white wines) Ginger, Honey, Wax
Evidence of Oxidation
White Wine: Nuts, Applesauce
Red Wine: Coffee, Cocoa, Mocha
Evidence of Lees
(white wines) Dough, Baked Bread, Beer, Yeast
Malolactic (MLF)
Oily, Butter, Cream
Earth
Organic Earth
White Wine: Wet Clay, Brettanomyces (Band-Aid), Mushroom
Red Wine: Clay, Potting Soil, Wet Leaves, Brettanomyces (Band-Aid), Mushroom
Inorganic Earth
Wet Gravel, Slate, Flint, Schist, Granite, Chalk, Sulfur (burnt match)
Oak
Oak
Yes/No. French/American. New Barrels/Used Barrels.
White Wine: New Oak: Vanilla, Toast, Coconut, Toffee, Butterscotch
Red Wine: New Oak: Vanilla, Brown Baking Spices, Cola, Smoke
---
Structure


As soon as you separate the structure of a wine as a separate entity to the aromas and flavors, you'll be able to much more easily correlate a wine with the conditions (winemaking techniques or region) that went into making it.
Sweetness Level
Bone Dry, Dry, Off-Dry, Medium Sweet, Sweet
See Wine Sweetness Chart
Body
Low, Medium-Minus, Medium, Medium-Plus, High
Acidity
Low, Medium-Minus, Medium, Medium-Plus, High
Alcohol
Low, Medium-Minus, Medium, Medium-Plus, High
Tannin / Phenolic Bitterness
Low, Medium-Minus, Medium, Medium-Plus, High
Tannins Wood (fine to coarse-grained tannin generally towards center of the tongue) Grape (coarse-bitter tannins towards sides and front of the mouth)
Phenolic Bitterness White wines
Complexity
Wines with high complexity have more flavors, as well as a taste profile that evolves from beginning to middle to end.
Length
The presence of alcohol, acidity, and tannin/phenolic bitterness, extends the length of flavor in a wine.
Balance
Yes (in balance)/No (out of balance)
This will help identify possible quality level of the wine. The more in balance, generally the higher the quality.
---
Conclusion


This section is specifically for blind tasting, but it's a good way to summarize and classify the wine into your mental repertoire.
Initial Conclusion: The real purpose of the initial conclusion in a professional blind tasting is to bring to light all the possible (similar tasting) wines that may indeed be the wine in question. It gives you an opportunity to rule out possibilities based on the traits you found while visually inspecting the wine and tasting its structure.
Conclusion: Your final decision.