With all the news coming out about Barolo and Barbaresco, it's the perfect time to brush up on the amazing grape behind these wines. Why? Prices are notching up from these two Nebbiolo regions, so you're likely to find great values from neighboring areas.
First things first, a little bit about Nebbiolo:
Imagine getting kicked in the face by a ballerina.
Nebbiolo has this exact same kind of elegant brutality.
One the one hand, it's elegant. Nebbiolo is best drank from a Pinot-shaped glass so that its delicate aromas of roses, raspberry coulis ("koo-lee"), and anise waft into your nose.
On the other hand, it's brutal. When tasted, Nebbiolo has so much astringency and mouth-drying tannins that your eyes start watering.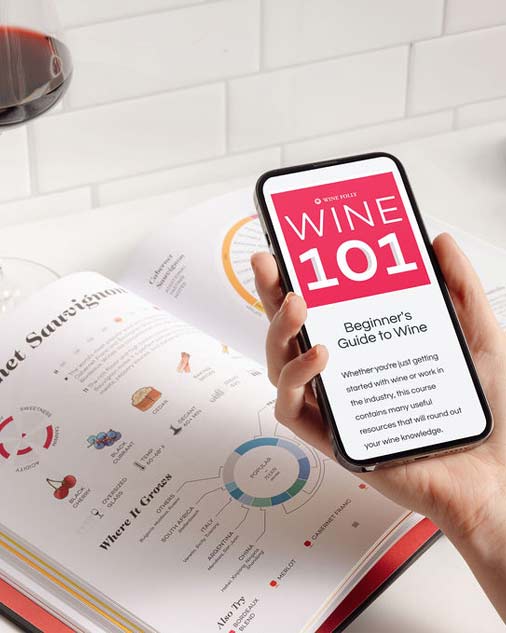 Buy the book, get a course.
Get the Wine 101 Course @ 75% OFF with the purchase of Wine Folly: Magnum Edition.
Shop Now
It's a visceral experience. You'll either love it or hate it. Naturally, we love it.
Many Faces of Italian Nebbiolo

In truth, not all Nebbiolo has rip-roaringly high tannins. Also, not all Nebbiolo smells like flowers. Each region in Northern Italy has a different expression of the stuff. Here are the ones to know:
Barolo DOCG
The color is pale garnet, which doesn't really give you any clue of the intensity in this wine. Its rigid tannins, bold flavors, and higher alcohol (usually around 14% ABV) are more like something you'd find in Bordeaux.
Sommeliers love to describe Barolo with two words: "roses" and "tar." Of course, Barolo is actually the fruitiest and most full-bodied of all the Nebbiolo regions in Northern Italy. Expect flavors of raspberry, red cherry, roses, potpourri, cocoa, anise, licorice, allspice, truffles, and a clay lick.
Barolo wines age at least 18 months in the barrel, with a total of three years aging before release. Even though that sounds like a lot, this wine is really meant to age. Most traditionally-made examples only start to come around at 10+ years (when all the tannins chill out).
Riserva Wines labeled Barolo "Riserva" are aged for a minimum of five years.
Vigna on a label indicates a single vineyard wine.
There are eleven different communes of Barolo, with two different main taste styles (based on the soil type: limestone vs. sandstone). (Of course, winemaker influence matters too, but that's a story for another time.)
The lighter-tasting wine communes include La Morra and Barolo, with limestone-based soils.
The bolder-tasting wine communes include Serralunga d'Alba, Monforte d'Alba, and Castiglione Falletto, with more weathered sandstone-clay soils.
Check out this geeky map for the complete list.
---
Barbaresco DOCG
The mostly fertile limestone-based soils in Barbaresco (along with its slightly milder climate) results in wines with noticeably less tannins than Barolo.
That's not to say Barbaresco isn't tannic; it's still a monster! It's just a nicer, friendlier sort of beast.
In terms of flavors, Barbaresco delivers amazing red fruit. Aromas of strawberry, raspberry, cherry syrup, and cotton candy all mingle together on top of roses, potpourri, and lighter notes of anise. It's not quite as "tarry."
Barbaresco must age 26 months (~2 years), with at least 9 months in the barrel.
Barbaresco Riserva must age 50 months (~4 years), with about 24 months in the barrel.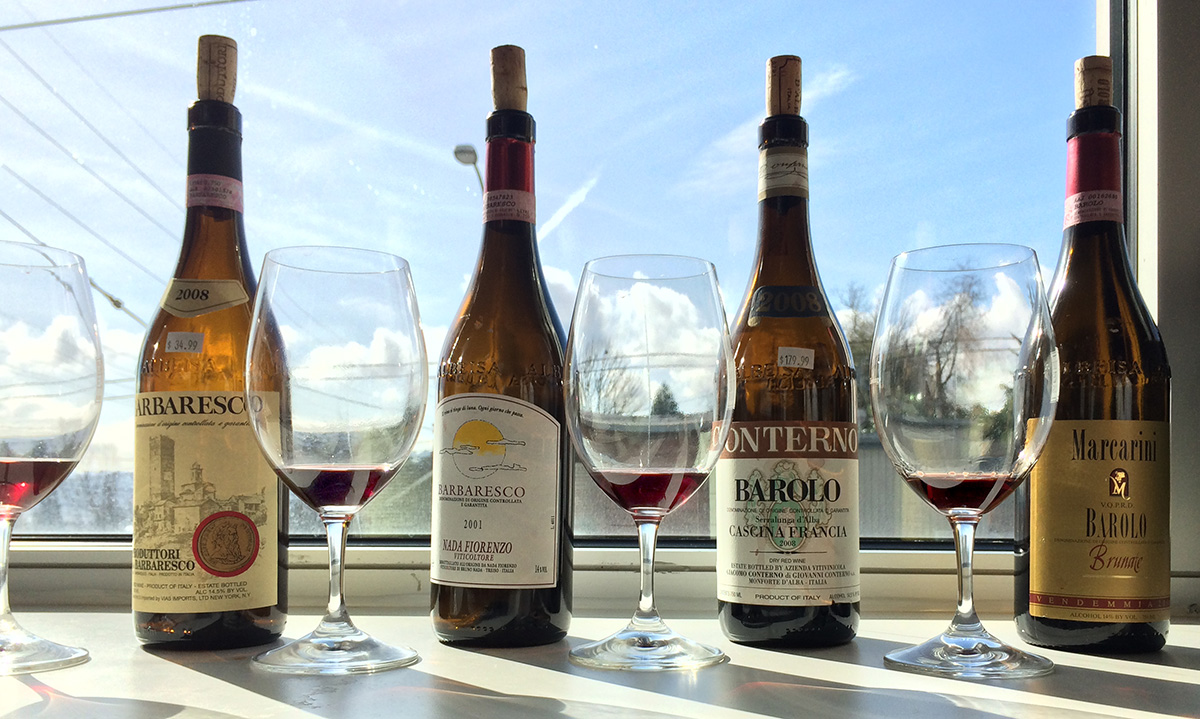 ---
Roero DOCG
Roero also sits within Alba in Piedmont right in-between Barolo and Barbaresco. This wine continues to fly under the radar even though it was recently elevated to DOCG status in 2004. Nebbiolo wines are every bit as intense and structured as Barolo (but usually at a fraction of the price). They also have Barbaresco's sweet fruit.
Leave a call-out below if you're a Somm who's freaking out (in delight) about Roero. We'd all love to hear what you're drinking.
Roero Riserva requires at least of 32 months of aging, including six months in the barrel.
What's a DOCG?
Italian wines follow a classification system indicated on the neck of the bottle. DOCG is technically the highest classification standard for protected designation of origin. (It stands for Denominazione di Origine Controllata e Garantita). Find out more about how Italian wines are labeled.
Other Nebbiolo Regions
Boca Nebbiolo is called Spanna here and wines also blend in Vespolina and Uva Rara. These are earthy, rustic wines with high acidity, high tannin, and often iron-like aromas from the region's soils.
Bramaterra Nebbiolo is also called Spanna here and blended with Vespolina and Uva Rara. Wines are lighter in style with simple fresh red berry and rose aromas with medium tannin and ample acidity. Many consider it a sin to open a bottle before 10 years.
Canavese Nebbiolo A single-varietal Nebbiolo with a minimum of 85% Nebbiolo (but often more) coming from Northern provinces in Piedmont where the rare white, Erbaluce, grows. Wines seem to be equally floral and earthy with strong tannins and licorice notes. For quality, seek out those serious examples with around 14% ABV!
Carema Another Northern Piedmontese gem that produces Nebbiolo on the lighter side – imagine roses, violets, truffles, and wild strawberries. Aging must be at least three years and the Riserva bottlings require four!
Fara Nebbiolo is called Spanna in Fara Novarese and wines include Spanna, Vespolina, and Uva Rara. Fara is thought to be a very ancient wine, grown in the hills west of Milan. Wines have rich dried fruit and rustic leather aromas.
Ghemme DOCG and Gattinara DOCG Two neighboring Northern Piemontese regions producing single-varietal Nebbiolo wines with rich dried fruit aromas and rustic earthy notes.
Langhe Nebbiolo Langhe is the region that encompasses Barolo, Barbaresco, and Roero. Vineyards in sites outside of the DOCG regions are positioned in the lower hills or on North-facing plots where it is harder to ripen Nebbiolo. Still, on outstanding vintages, this is a great place to hunt for values.
Lessona The best Lessona is 100% Nebbiolo, although some include a blend of Vespolina, Croatina, and Uva Rara. The region's sandy soils produce wines of lithe elegance with perfumed floral notes of roses, peonies, and violets. On the palate, Lessona has high acidity and is very structured, making it wise to age them for 10 or so years to reach their peak.
Nebbiolo d'Alba An even larger region that encompasses much of South Central Piedmont produces a great deal of value-driven Nebbiolo wines. Nebbiolo d'Alba ranges in taste from fruity and floral to herbaceous and rustic. This is a wine where the right vintage will really make a difference!
Valtellina, Lombardy In neighboring Lombardy there is a transverse valley that opens to Lake Como. Here, in the south-facing hills, you'll find Nebbiolo is called Chiavennasca. The region is much cooler and produces wines with tart, earthy berry notes and high acidity. This is where you'll find the rare Sforzato or Sfursat wine, which is essentially a Nebbiolo made in the style of Amarone della Valpolicella.

The More You Know
The complete list of DOC and DOCGs of Piedmont is out now.
Even though there are 59 regions in all, there are just about a dozen grapes to know. Time to dig into Piedmont… Piemonte!