Bordering on Tuscany and right above Rome is the lesser-known and lesser-traveled region of Umbria. It's here where you'll find some of the most amazing, delightfully undervalued Italian wines – from the crisp, dry white wines of Grechetto to the deep colored, antioxidant-rich reds of Sagrantino.
Delightfully undervalued Italian wines
The Wines of Umbria


This map shows the 13 encompassing wine regions of Umbria. Make note of Orvieto, Torgiano and Montefalco–the most well-known of Umbria's wine areas outside of Italy.
Selected Wines of Umbria

Torgiano Rosso Riserva DOCG
Start your cellar already
Blend 50–70% Sangiovese , 15–30% Canaiolo, up to 10% Trebbiano; other red grapes (Ciliegiolo, Montepulciano) up to 15%.
Expect to spend ~$30
One of two DOCG wines from Umbria. The wine is mostly Sangiovese (50-70%) and the Riserva level is required to age at least 3 years with a minimum of 6 months in bottle. What's interesting is that the aging requirement is very similar to Gran Selezione classification – Chianti's highest quality tier. The grapes for Torgiano Rosso Riserva are sourced from vineyards only in the elevated growing areas in Torgiano township (not in the flatlands) which means the wines offer elegant red fruit and floral characteristics with ample aging potential.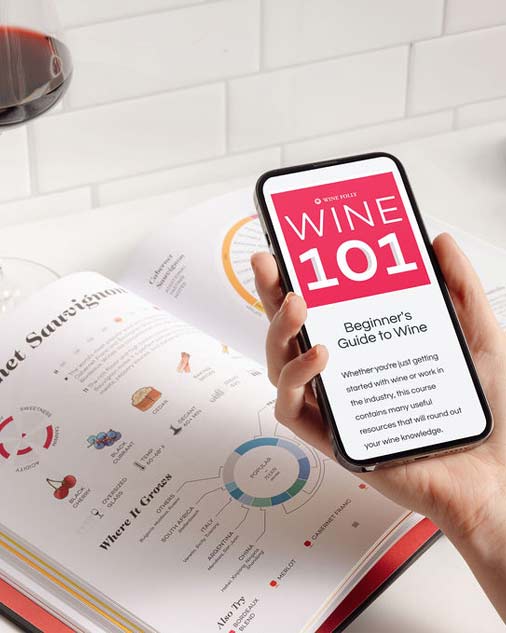 Buy the book, get a course.
Get the Wine 101 Course @ 75% OFF with the purchase of Wine Folly: Magnum Edition.
Shop Now
Tasting Notes
Brilliant semi-translucent ruby red color with notes of raspberry, strawberry, hide leather and subtle potpourri. Tannins are bold, bordering on notes of coffee or cocoa powder with tangy acidity. This is definitely a wine to set down and enjoy starting around 10+ years from the vintage.

Montefalco Sagrantino DOCG
The world's most tannic red wine?!
Blend 100% Sagrantino
Expect to spend ~$40
The other DOCG wine of Umbria. A very special red grape grows in Umbria around the small hillside village of Montefalco. The grape is called Sagrantino and, according to a study by the Edmund Mach Foundation, it may contain the highest amount of polyphenols (antioxidants) of any red wine, anywhere. The study compared Sagrantino to Cabernet Sauvignon, Nebbiolo and Tannat (among others) and found that it had more tannins than any of the other wines tested. The structure in Sagrantino's tannin is similar to that of pure cocoa, whose health benefits are well known. Sagrantino wines that are cellared properly can age for 30+ years.
Tasting Notes
Deep opaque color with notes of black plum, cocoa powder, blackberry sauce, violet, vanilla and sage. On the palate it's bold with notes of black fruits, minerals, and bitter greens with exceptionally high tannin. The tannins build on your palate over the course of drinking a glass so be sure to enjoy with aged cheeses, roast boar, braised beans or something with enough proteins to balance it.
Passito: There is also a dessert wine style of this wine called Montefalco Sagrantino Passito made using partially dried Sagrantino grapes. Wines burst with dark berry flavors and nuttiness. The sweetness balances Sagrantino's rigorous tannin.

Montefalco Rosso DOC
Sangiovese on crack
Blend 60-70% Sangiovese, 10–15% Sagrantino, 15-30% Others
Expect to spend ~$25
With just a splash of Sagrantino, Montefalco Rosso has deeper color, more tannin, and richer plummy fruit than many other Italian Sangiovese-based wines. It also benefits from the added fruitiness of Merlot and Cabernet Sauvignon allowed in the blend. Many producers experiment with oak-aging technique to make Montefalco Rosso delicious to drink upon release, making it a great way to start experiencing Umbrian wine immediately.
Tasting Notes
Deep translucent ruby red color with aromas of raspberry, strawberry, cinnamon, leather and rose. On the palate it's bold and spicy with medium to high tannin and juicy-fruity acidity. Most are best enjoyed 3–10 years from vintage.



Orvieto DOC
Step aside Pinot Gris
Blend 40% min. Grechetto, 20–40% Trebbiano and up to 40% other non-aromatic white grapes.
Expect to spend ~$16
Tasting Notes
Find yourself an Orvieto, or better yet, a wine made with the region's star white grape: Grechetto. This white grape is most typically made into a fruity-but-dry white wine with aromas of lemon heads, crisp opal apple and strawberries with juicy acidity. Grechetto is a great Italian alternative to unoaked Chardonnay or Pinot Gris.
---
Umbria by the Numbers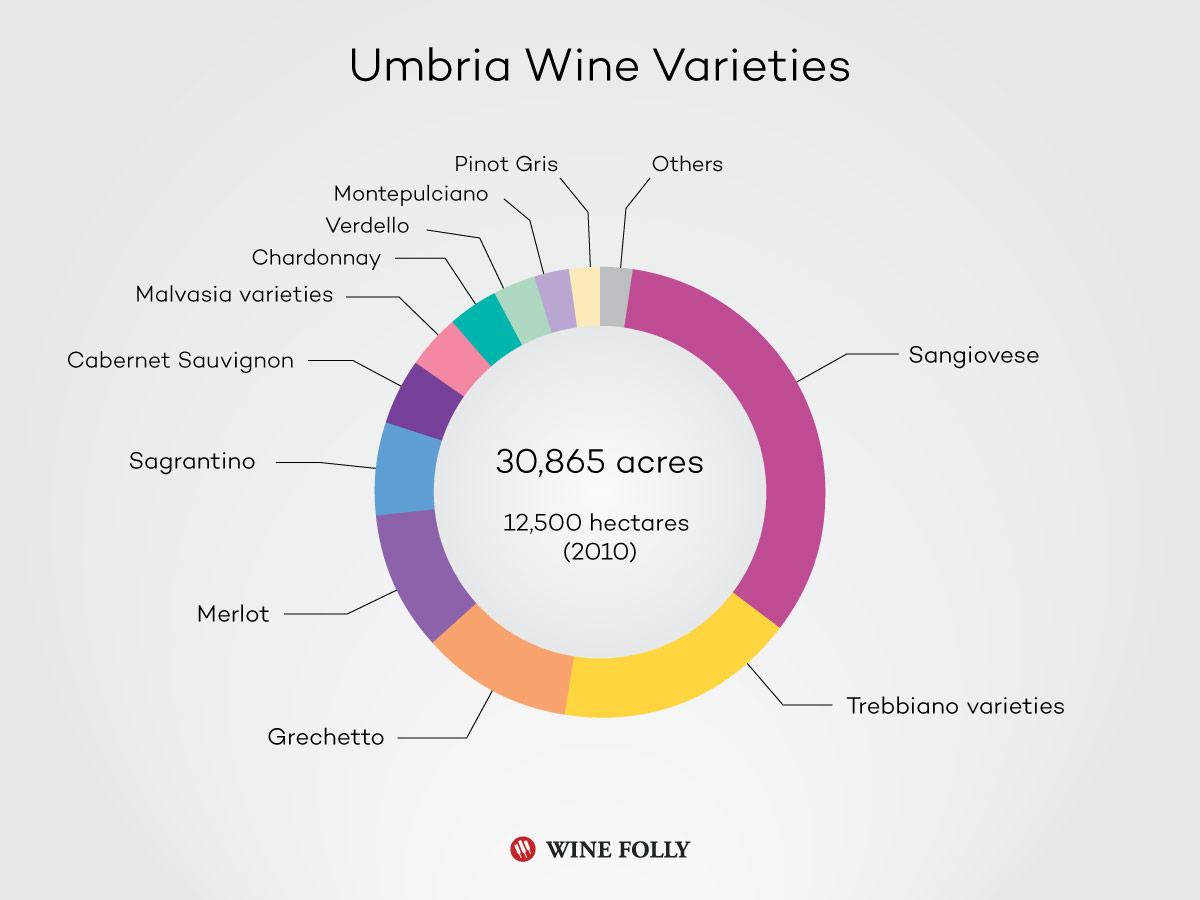 A breakdown of the vineyard acres of Umbria from 2010. By understanding the major plantings in the region, you can get a better idea of the possible grapes used in Umbrian wine blends, including wines labeled Umbria IGT which can include any of the allowed wine grapes of the region.
Last Word
Now that you know what to look for…all you need to do is
try more Italian wine
Your Italian friend will giggle with glee.