Few things are as exciting as the come-from-behind winner, the one you didn't expect – the dark horse. In that spirit, these red wines from Southern Italy aren't well-known, but once you've tried them, you just might give them the crown.

8 Dark Horse Red Wines From Southern Italy
This region is where Greek and Phoenician traders settled and met the native Etruscans, followed by Romans, Moors, Arabs, and Spaniards.
The result is an abundance of unique grape varieties, exceptional terroir, and spectacular wines that don't cost a fortune.
---

Aglianico del Vulture
Grape: Aglianico
Region: Basilicata
What to Pair: Beef stew, steak au poivre, full-flavored cheese.
While the Aglianico wines of Campania and Basilicata share the same basic flavor profile — sinewy red fruits and berries, pronounced acidity, and firm tannins — Aglianico del Vulture is darker in color and earthier in flavor. It's often noted to have a distinct chalkiness and hint of tobacco leaf in the finish.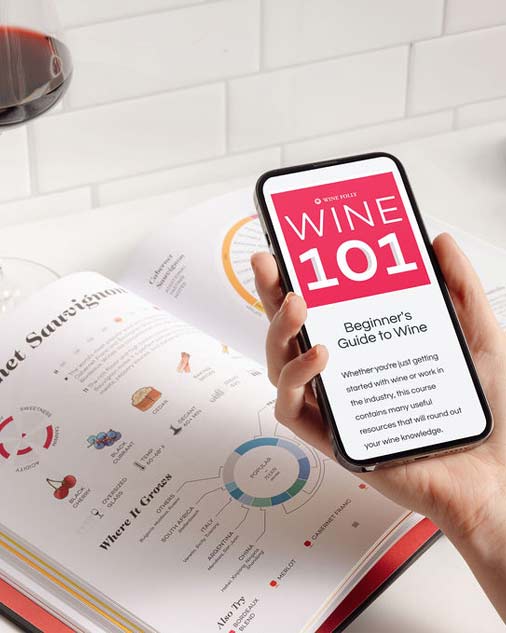 Buy the book, get a course.
Get the Wine 101 Course @ 75% OFF with the purchase of Wine Folly: Magnum Edition.
Shop Now
Aglianico (al-lee-ahn-ni-ko) is the most prestigious red grape of the south and considered a member of the trio of "noble" Italian varieties, along with Nebbiolo in the north and Sangiovese in the middle.
Some think the grape is of Greek origin but there is no concrete evidence, and it's entirely possible Aglianico originated in southern Italy.
Its main base is Campania, where it is the star player of the renowned Taurasi and many other Aglianico-based wines.
But its other principal outpost is right next door in Basilicata. Though Mount Vulture has been extinct for centuries, the soil at the base of the mountain where the vines grow is still very much volcanic and offers a very different expression of Aglianico.

Campi Flegrei Piedirosso
Grape: Piedirosso
Region: Campania
What to Pair: Drink a young Campi Flegrei Piedirosso with grilled meat and vegetables or a tomato-based pasta, or pair a riserva with spit-roasted squab.
Piedirosso, locally known as Per' e' Palummo ("pigeon's foot"), is the standout red variety of Campi Flegrei, with a solid core of luscious blackberry fruit, soft tannins, tart acidity, and a long gravelly finish of baking soda, flint and a wisp of smoke.
Campania is actually a volcanic zone, consisting of 24 craters, most of them underwater, surrounded by a pock-marked terrain that includes several lakes and numerous pools of boiling mud.
Native Campanian grapevines do surprisingly well in this odd, slightly spooky environment and, since phylloxera cannot survive here, many of them are very old and un-grafted.

Penisola Sorrentina Rosso Frizzante Gragnano
Grape: Aglianico, Piedirosso, Sciascinoso (shia-she-know-so)
Region: Campania
What to Pair: This fizzy red goes with just about anything from grilled seafood to salumi. For Neapolitans, Gragnano is the go-to beverage with pizza.
Shiny garnet hue, fragrant aroma of rosehips and wild oregano. Tart pomegranate with hints of anise seed and black pepper, briny toasted seaweed salinity, and taut tannins, accentuated by the light fizz, which also creates a lovely pale pink sea foam on the surface. You might serve this red wine from southern Italy chilled!
Native grapevines are planted in the foothills of the Lattari Mountains, consisting of compressed marine sea fossils with airborne rocks, stones, and dust from past volcanic eruptions.
This unique soil composition, along with ample Mediterranean sunshine, big diurnal shifts (the difference between day- and night-time temperatures), and salty breezes off the sea, produce delicious red and white wines.
But the most interesting and appealing of all are the red frizzante (fizzy) wines from three subzones, each named after a town: Lettere, Sorrento, and Gragnano (gran-yan-oh).

Colline Teramane Montepulciano d'Abruzzo
Grape: Montepulciano (mon-tay-pool-chee-ahn-know)
Region: Abruzzo
What to Pair: Whichever Montepulciano you choose, the pairing recommendation is the same: Arrosticini Abruzzese!
Wines with dark black cherry and black currants with a slightly dried leathery edge, supple tannins, tangy acidity and a bitter chocolate finish with a hint of fresh cilantro.
In Southern Italy, montepulciano is a grape, and a very important one, especially for Abruzzo, where it is the star attraction accounting for over half of all grapevines planted in the region.
Besides waving the regional banner, this means that Montepulciano d'Abruzzo runs the gamut from cheap everyday quaff to some of the most compelling (and expensive) wines in all of Italy.

Tintilia del Molise
Grape: Tintilia
Region: Molise
What to Pair: Rosemary-sage roasted pork chops, braised cotechino sausage, wild mushroom risotto, or anything else that strikes your fancy.
Wine that's dark purple, with dense velvety tannins and juicy black plum and blackberry, with a touch of black pepper, moderate acidity, and a long lingering finish with an appealing hint of warm asphalt.
Molise is Italy's second smallest region and one of the newest, having officially separated from its northern neighbor, Abruzzo, in 1963.
While some believe Tintilia is of Iberian origin, drawing a connection between the name of the grape and the Spanish word 'tinto' (red), it has been here as long as anyone can recall and was traditionally used to soften montepulciano, Molise's most widely planted vine.
But more and more producers are getting behind their native son, and a new appellation requiring a minimum of 95% Tintilia was created in 2011 to showcase it. Whatever its origins, Tintilia del Molise is a distinctive and promising regional ambassador.

Castel del Monte Nero di Troia
Dark red, almost opaque; rich smooth slate texture with solid, angular tannins and firm acidity revealing ripe blackberry, plum and blueberry, with fresh rosemary, thyme, black pepper, and licorice popping up on a long finish.
Imagine a festive dinner with Pugliese olive oil, Pugliese wine, and traditional Pugliese dishes. Conversation is animated, large platters of food are being passed around, and a new wine is poured into your glass whenever it's empty.
Toward the end of the evening someone re-fills your glass yet again. You take a sip.
The moment it hits your palate, a vivid image of the brooding, enigmatic castle pops into your head. You taste the taut tension of the thick-walled structure, the dense roots grounded deeply in the dusty earth, the acidity that lifted up into the sky, the slow, gradual unveiling of character with each sip….
You ask your dining neighbor what it was: "Castel del Monte," she yells over the noise. Though she didn't catch the producer's name, she did get the grape: Nero di Troia, an obscure variety that does so well in the vicinity of the Castel it has its own sub-appellation.
---

Cannonau di Sardegna (Sar-dain-ya)
Grape: Cannonau (can-nun-now)
Region: Sardinia
What to Pair: Drink a young Cannonau (perhaps slightly chilled) with hard cheeses/salami/olives, marinated vegetable antipasti, or the typical Sardinian dish of saffron Malloreddus with sausage, tomato, and pecorino Sardo. Pair a riserva, classico or subzone with grilled lamb brushed with rosemary.
All versions of Cannonau share the same basic characteristics: ripe red cherries, blackberries and plum, medium- to dark color, soft tannins, subtle floral aroma, a hint of wild herbs, and a touch of salinity.
A riserva or classico will add more body, intensity, and aging potential. And a Cannonau from one of the subzones will have more defined character nuances reflecting its specific territory.
Cannonau is the region's most important grape and it is grown throughout the island, reflecting its extremely diverse terroirs.
In the warmer southern coastal areas, it produces riper, juicier wines with more Mediterranean influence, whereas in the mountains on the eastern side, it is more muscular and structured, with bigger body and longer aging potential.
Besides the basic Cannonau, there is also a riserva version (longer minimum aging), a Classico (more restricted growing area), and three official subzones — Oliena, Jerzu, and Capo Ferrato — on the eastern side.
---

Etna Rosso
Grape: Nerello Mascalese
Region: Sicily
What to Pair: Drink a young Etna Rosso with grilled octopus and tomato or rare-seared tuna, or pair an older contrada wine with braised beef and bone marrow.
Transparent garnet, with medium body, captivating aromas of dried rose, wild herbs and a hint of sulfur. Tart pomegranate and sour cherry flavors, with prickly pear acidity, supple leathery tannins and a long gentle finish.
Etna wines are typically full of restraint, complexity and finesse, and develop well over time, which explains why Etna Rosso has been compared by many tasters to Burgundy and Barolo.
Mount Etna is the biggest volcano in Europe and one of the most active volcanoes in the world. Grapes have been growing on Etna's slopes as far back as the ancient Greek settlers.
Besides soil, there are big differences in exposure (vines are planted on the northern, eastern and southern slopes) and altitude, creating huge day-to-night-time shifts, and an unusual combination of sub-tropical, Mediterranean, and Continental climates.
Add to this a preponderance of extremely old vines — 80-100+ years is not uncommon — plus the unique characteristics of the Nerello Mascalese grape (and its sidekick, Nerello Capuccio), and you can get some very cool wines.
---
Now that you've bulked up your list of Italian wines to try, don't get intimidated! Many of these wines are within reach from your local wine market or online, and just because they sound amazing doesn't mean you have to fill the cellar up today.
But no one would hold it against you if you did. Discover even more delicious choices with our Italian Wine Exploration Guide.